A Few Facts About Beef You May Not Know: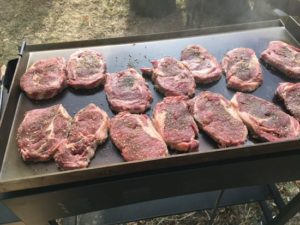 Beef has 8 times more vitamin B12, 6 times more zinc and 2.5 times more iron than a skinless chicken breast.
A 3 oz. serving of beef provides more than 10 essential nutrients and half of your daily value of protein.  Generally from 150 to 170 calories!
Beef is a nutrient powerhouse in many ways.  Aside from being a great source of protein, beef provides essential nutrients in a smaller package than many other proteins.  For example, you would need to eat 8 oz. of chicken breast to get the same amount of iron that is in 3 oz. of beef.  You would need about 20 oz. of chicken breasts to get the same amount of zinc that is in one serving of beef.
There are 29 lean cuts of beef with fat content that falls between a skinless chicken breast and a skinless chicken thigh.  These cuts include sirloin steak, roast, ground beef, T-bone steaks and brisket, to name a few.